Weather Videos - Latest
Do not miss footage of shocking weather events trending in Canada and worldwide; including floods, hurricanes, storms, tornadoes, snowfalls, ice, hail, cyclones, drought, heatwaves and more.
0:25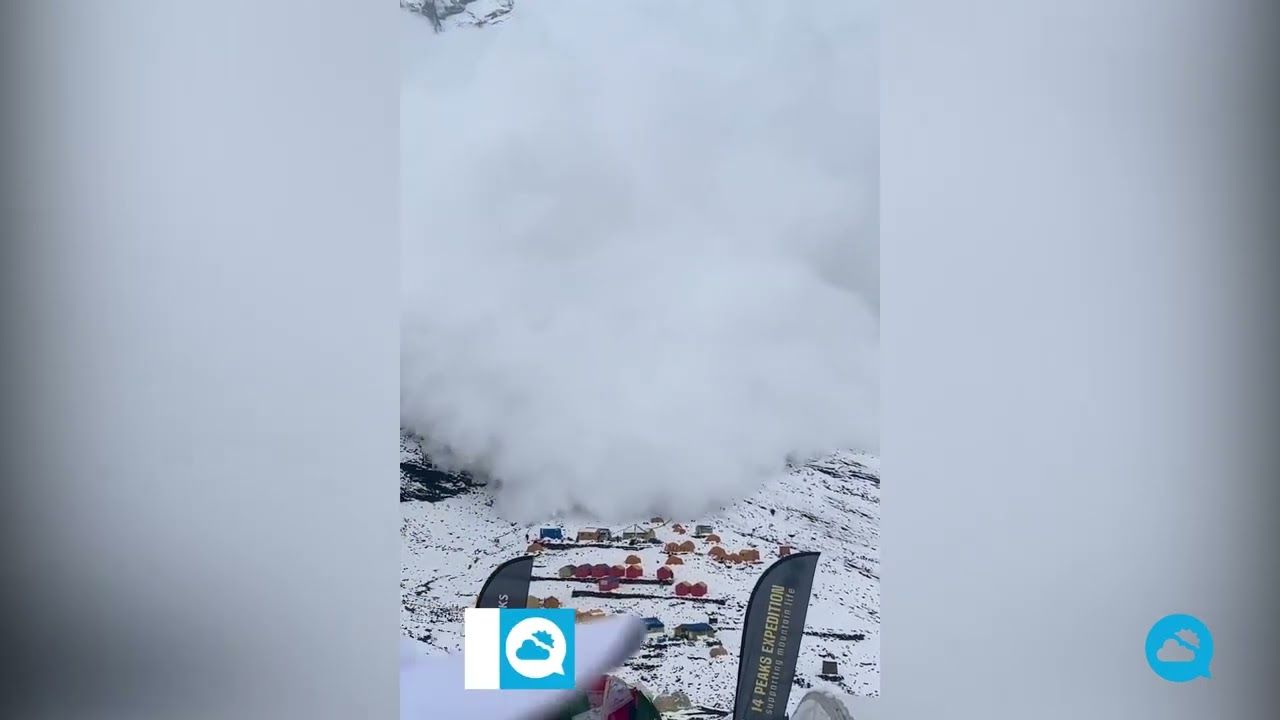 A terrifying snow avalanche has swept away the Manaslu base camp, Nepal
This Sunday, a wave of snow fell on the camp leaving six camps and about 30 tents destroyed. The incident has not caused fatalities.
Now playing
This Sunday, a wave of snow fell on the camp leaving six camps and about 30 tents destroyed. The incident has not caused fatalities.
Hubble unveils enigmatic cosmic explosion
The object known as IRAS 05506+2414 could be an example of an explosive event caused by the disruption of a young, massive star system.
Violent waterspout between Terracina and Sabaudia, Province of Latina, Italy
Yesterday a waterspout shook several areas of the territory,causing heavy material damage.
Hurricane Ian hits Florida, USA, hard
The hurricane arrived recently with a devastating passage, leaving floods, cars under water and millions of users without electricity.
Spectacular tornado formation in Caracas, Venezuela
It was possible to capture the moment when a tornado threat was formed after strong winds were recorded. Hail also fell.
In the eye of major hurricane Ian
It has bordered on category 5, with sustained winds of over 249 km/h. After impacting Cuba, its effects could be devastating in Florida.
Heavy flooding and rain in Trapani, Italy
Numerous streets, shops and homes were flooded by heavy downpours on Monday.
Spectacular images of the storm in Mallorca, Spain
Heavy rain and thunderstorms occurred in the early hours of Sunday morning, where impressive video footage was captured.
Major storm causes chaos in Murcia, Spain
In some areas, up to 40 mm of water accumulated in 10 minutes. Unfortunately, one person died after being caught in a flash flood.
The lava flows of La Palma (Canary Islands, Spain) "smoke" with the rain
The temperature of the lava flows is still high enough to evaporate the rainwater, leaving very curious images.
Impressive flooding in Tarragona, Spain
On Friday afternoon, heavy rains caused serious damage in several localities of the territory.
Incredible images from the heart of major hurricane Fiona
These impressive shots were recorded by a drone in wind gusts of more than 160 km/h and waves of more than 15 metres.
Shocking forest fires in Turkey
A few hours ago, serious fires broke out in the provinces of Muğla and Antalya.
Rivers turning black in burnt areas in Spain
The heavy storms of the last hours have caused the "forest chapapote" to be washed into rivers and ravines.
Impressive hailstorm in several cities in Turkey
Recently, hail of great magnitude fell in several cities within the country.
Spectacular wet downburst in Ciputat, Indonesia
These impressive images show the violence of the phenomenon, with wind gusts of more than 100 km/h. The material damage was significant
Impressive storm in the city of Comodoro Rivadavia, Chubut, Argentina.
Heavy rains caused chaos in the city. Streets were flooded, families were evacuated and canals were saturated.
In the eye of devastating Hurricane Fiona
These incredible images were recorded from a NOAA hurricane hunter plane. Fiona is now a major Category 4 hurricane.
Hurricane Fiona wreaks havoc in the Dominican Republic
The cyclone caused severe thunderstorms, 150 km/h wind gusts and deaths on Monday.
"Dead" reservoirs in Spain due to a major drought.
In some places, archaeological sites or population centres have emerged that were left underwater after the construction of the reservoirs.
Very violent storms in Qilwah, Saudi Arabia
Heavy downpours and gale force winds have been recorded in recent hours, causing numerous problems in the locality.
Hurricane Fiona causes flooding and a general power outage in Puerto Rico
The cyclone made landfall on Sunday in the south of the country, causing rivers to overflow and winds of more than 135 kilometres per hour.
Impressive waterspout in Praia a Mare, Italy
These incredible images were recorded from San Nicola Arcella. The whirlwind made landfall, causing damage to the coast.
Surprising whirlwind in the city of Caaguazú, Paraguay
The phenomenon, which occurred a few hours ago, is generated by a set of particles that, when they rise from the ground, form a rotating column of variable height.